Siberia
The Siberia is named after perfection, a frosty mint with lemon zest to enhance the slightly sweet taste of mint crystals for immediate refreshment! After this icy storm of flavor, Siberia will have no secrets for your taste buds.
Hurry up! Only
494
item(s) left in Stock!
Real time:
1
Visitor right now
myGeeko Ejuice - Siberia
SIBERIA is an e-liquid with incredible tastes, a frosty mint with a hint of lemon and slightly sweet mint crystals for an immediate refreshment. Composed in 50VG / 50PG it offers an exceptional flavor rendering and an imposing hit.
The composition of myGeeko e-liquid offers an ideal consistency for any type of vape, your favorite atomizer and drippers will release the incredible taste of icy mint in all its splendor.
Composition:
50% vegetable glycerine
50% propylene glycol
Food flavors
Nicotine
Vegetable glycerin & propylene glycol are the basic composition of myGeeko e-liquid, which has the property of generating steam when it is heated in your machine. Food flavors are used to bring all the flavors to myGeeko secret recipes. In the myGeeko e-liquid we use 99.9% pure pharmaceutical liquid nicotine, the purity of the nicotine allows to promote a hit of quality (feeling of soft contraction in the throat during the passage of steam).
The flavors used meet the most stringent requirements of the food industry.
They contain no diacetyl, paraben or ambrox.
MyGeeko e-liquids are usable with all makes and models of e-cigarettes, cigars, electronic pipes and all personal vaporizers available on the market.
For safe storage, keep your myGeeko e-liquid away from light and preferably in a dry place at an ambient temperature of approximately 20 ° C.
Beginner:
What dose of nicotine should I choose for my e-liquid?
The dosage to choose depends on your cigarette consumption and your nicotine addiction.
12 mg for strong dependencies
6 mg for medium dependencies
3 mg for light addictions
0 mg if you have no addiction to nicotine
Malheureusement
Trop fort pour moi mais parfait pour les amateurs de sensations forte
Answer:
Bonjour, nous constatons que malheureusement le Siberia se trouve être trop fort à votre goût, nous amerions vous conseiller d'autre type de produits mentholé moins fort que vous pourrez vous même doser en menthe, nous vous contactons par e-mail pour plus de détails. Bien à vous, l'équipe myGeeko.
Top
Au top
Bien
Très bon
ça laisse une bonne odeur dans la maison c'est chouette
Bon
Conforme à la description vraiment glacial
Super service
Good !
Bon !
Très bon
Pratique ça permet de garder l'haleine fraiche en tout temps
Super !
Incroyablement frais du jamais vu !
Très bien
Trop fort pour les hautes puissances mais parfait pour ma petite vape d'appoint
Bien
C'est la première fois que je tombe sur un liquide aussi fort !
Très bon
Bon
Trop bon
Je le recommande
Bon
Convient parfaitement
Delicieux
Super !
Je le conseille fortement !
bien
Refroidissement instantané
Trop bon
Top
Il est vraiment fort, j'adore !
J'adore
on le conseille !
Super !
top
Je recommande
Yes !
Bon liquide
Parfait
Satisfait du produit
bon
je le vape depuis des années maintenant, je ne m'en lasse pas
Impressionnant
Super gout
Trop bon
Je l'ai pris sur les conseilles d'un ami et je le recommande aussi
bien
Je l'utilise pour rafraichir mes autres goûts et ça marche bien !
Un habituel !
Conforme
Bien
Très bien
All day
Excellent
Parfait pour diminuer en nicotine, on le sens bien passer !
Je recommande !
Je le mix avec le pinkie ça donne une touche de fraicheur
Super !
Il porte bien son nom
bien
Bon
Bon
Satisfait
Bien
Bien
Presque trop fort, génial !
Wow !
Customers who bought this product also bought:
The iJust AIO kit from Eleaf is an "all-in-one" electronic...
The subtle blend of grapes and cassis will give fans of these...

Hello Sunshine is the ray of sunshine of your morning, a...

Black Geeko is an e-liquid with strong brown tobacco flavors....

Pinkie sees life in pink. The dream metered to perfection, a...
Price
€29.50
€10.00 Cashback
Combining two of the most beloved fruits, strawberry and...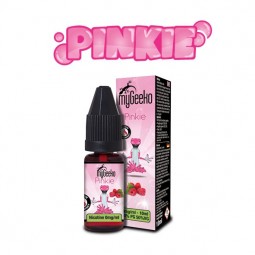 Pinkie sees life in pink. The dream metered to perfection, a...